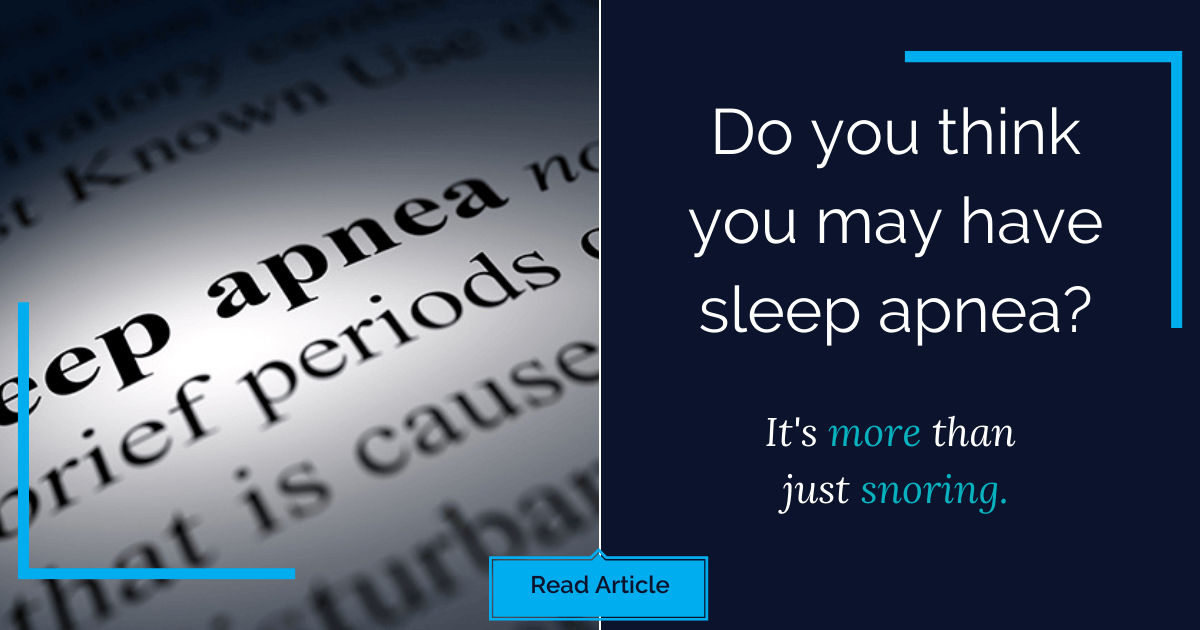 25 Feb

Sleep Apnea Linked to Increased Cancer Risk

Obstructive sleep apnea, already known to raise the risk of cardiovascular disease, may also increase the chances of getting cancer, according to a study published in June 2019 in the European Respiratory Journal. The link is strongest in women, according to the study.

The study is part of an emerging area of research in sleep medicine, says Michael Grandner, Ph.D., director of the sleep and health research program at the University of Arizona. Dr. Grandner was not involved in the study.

To explore the relationship between sleep apnea and cancer, the researchers reviewed data from 20,000 adults with obstructive sleep apnea. About 2 percent of the patients had a cancer diagnosis.

The risk of cancer was linked to many well-known risk factors, such as age, body mass index, and smoking. But even when controlling for those factors, the analysis showed a 2 to 3 times higher risk of cancer in women with sleep apnea. The link was not as strong among men.

The stronger association in women was surprising since sleep apnea is often viewed primarily as a male disease, says Ludger Grote, MD, PhD, lead author of the study and an adjunct professor of pulmonary medicine at Sahlgrenska Academy at the University of Gothenburg in Sweden.

"The prevalence of obstructive sleep apnea is higher in [men]," he says. "It is a frequent cause of daytime sleepiness in middle-aged [men], and cardiovascular consequences like hypertension are frequently observed in [men]."
A Common Disorder With a Deadly Track Record
Sleep apnea is a common breathing disorder that has already been linked to an increased risk of death due to heart disease, impaired glucose tolerance, and insulin resistance (factors that contribute to diabetes), as well as mood disorders, stroke, high daytime blood pressure, and accidents due to daytime drowsiness.
Sleep apnea usually occurs when muscles relax during sleep, allowing the soft tissue in the throat to sag and block the airway. The disorder is characterized by periods of breathing cessation, typically 10 to 30 seconds at a time, which results in oxygen deprivation.
The condition is more common in people who have characteristics that predispose them to tissue collapse in the throat, such as obesity, large neck size, and structural abnormalities in the head and neck. Other risk factors for sleep apnea include heavy alcohol use, smoking, and nighttime nasal congestion.
The condition occurs in about 24 percent of men and 9 percent of women, according to the American Academy of Sleep Medicine (AASM).
A Trail of Studies on the Sleep Apnea–Cancer Connection
The new study is based on an epidemiological study, a type of study that is able to show associations between conditions but not prove direct cause and effect, says Dr. Grote.
The paper follows on the heels of a handful of other epidemiological studies conducted over the past decade that have also revealed an association between sleep apnea and cancer.
Research conducted by the Spanish Sleep Network, published in September 2015 in Archivos de Bronchoneumología, for example, found that people with the most serious cases of sleep apnea had a 65 percent greater risk of developing cancer.
Another study of 1,522 people enrolled in a project known as the Wisconsin Sleep Cohort, which was published in July 2012 in the American Journal of Respiratory and Critical Care Medicine, looked at the risk of dying from cancer over more than two decades. The participants underwent overnight sleep studies that included polysomnography (an all-night recording of sleep and breathing) and other tests at four-year intervals. That study showed that people with symptoms of sleep apnea had 5 times higher risk of dying from cancer compared with people not afflicted by sleep apnea.
A paper published in October 2018 in the journal Cancer Causes & Control, based on research at the University of Washington School of Public Health in Seattle, evaluated adults diagnosed with sleep apnea between 2005 and 2014. Researchers found that, compared with the general population, people with sleep apnea had an increased risk of some types of cancer, including kidney cancer, melanoma, breast cancer, and uterine cancer. The risk of lung cancer and colorectal cancer, however, was lower.
Sleep Apnea and Cancer: What's the Link?
The biological mechanism linking sleep apnea with an increased risk for cancer is not fully understood, though there are theories.
The frequent disruptions in breathing during the night may "cause not only fragmented sleep but also oxidative stress, which means that, at the molecular level, cells in all parts of the body are more stressed," says Grandner. This stress may lead to increased inflammation throughout the body and "could be an important pathway to cancer risk," he says.
This does not explain why women with sleep apnea appear to be more prone to cancer, however, Grote says. Much more research is needed to look at the link, he adds. Grote's research group is collaborating with researchers in Dublin to record new cancer diagnoses as well as cancer types and stages, and whether any sleep apnea was treated. Another study in Sweden will look at sleep registries to record cancer diagnoses and socioeconomic factors.
At the least, the mounting evidence of the link between sleep apnea and cancer adds to the importance of diagnosing and treating sleep apnea, Grandner says. According to the American Academy of Sleep Medicine, about 80 to 90 percent of adults with sleep apnea are undiagnosed.
"Sleep apnea is shockingly common," he says. "Yet it is a serious medical condition that needs to be treated."
Do You Have Sleep Apnea?
The signs of sleep apnea include snoring loudly and frequently, with periods of silence when airflow is reduced. People sometimes make choking, snorting, or gasping sounds when the airway reopens, according to the AASM.
Other common symptoms associated with sleep apnea include excessive daytime sleepiness, nonrestorative sleep, dozing off behind the wheel, and cardiovascular disease says Grote.
Sleep apnea is diagnosed based on an overnight evaluation at a sleep center, where tests are conducted to chart breathing, brain waves, and heartbeat. The most common therapy is the use of a continuous positive airway pressure machine.
Other treatments included oral mouth guards (appliances that help keep the airway open), lifestyle modifications (such as weight loss), and altering sleep positions (such as switching from sleeping on the back to sleeping on the side and elevating the head of the bed). In severe cases, surgery can be performed to correct an anatomical obstruction in the throat.
"People should talk to their doctors and get tested," Grandner says. "Evaluation is almost always covered by insurance; it only takes one night, and it is not painful. It's better to know if you have it."
Source – https://www.everydayhealth.com/cancer/sleep-apnea-linked-cancer-risk/