Dental Implants
Dental implants are used to replace damaged or missing teeth with natural-looking, fully functioning tooth replacements that allow patients to feel comfortable with their smile, and return to eating foods they avoid because of their inability to chew properly. Dr. Riggs knows that a missing or damaged tooth can create both aesthetic issues and problems with speaking or chewing, which is why she offers dental implants.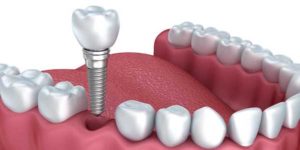 A dental implant is a synthetic tooth consisting of several elements. The first component is the dental implant itself, which acts like the "root" of a tooth — it is placed under the gum. The second part is the connector that connects the dental implant to the tooth on top. The third part is the actual tooth on the implant — this is the part that you see in your mouth, brush and floss normally, and it acts like your other teeth. Dental implants are vital in maintaining facial structure, preventing the shifting of teeth, and bone weakening that occurs when you are missing teeth.
Dental implants are extremely strong and typically last many decades, and are a permanent replacement for one missing tooth or several missing teeth.