Full or Partial Dentures Stuart, FL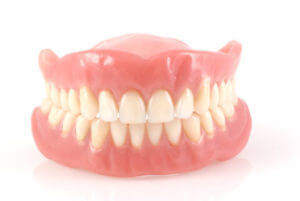 Riggs Family Dentistry in Stuart, FL is proud to offer a variety of options for their patients who are missing teeth. Having teeth not only allows you to chew your food better, but it improves your confidence and esthetics. When a tooth is lost from bad oral health, often the jawbone shrinks and can cause a "sunken" look in the cheeks. If you are missing all your teeth on one arch, the dental services options include a DENTURE, or DENTAL IMPLANTS with teeth that are attached permanently or IMPLANTS and a denture that can fit over or snap onto the posts for additional stability.
If you are only missing a few teeth, then the options include a BRIDGE, and IMPLANT or a PARTIAL DENTURE. A partial denture can be one of several different types. In the past a partial denture usually had a metal framework and was a little bulky. Newer partials are very esthetic and slender and more comfortable than those of the past. Our office offers many different options as advancements in technology have brought us flexible partial dentures as well as all acrylic partials that match the color of your gums and teeth. We even have clear frameworks that are nearly invisible.
The newer materials are often more bio-compatible as well as durable as well as natural-looking. Our patients who wish to restore their mouths and stabilize their bites have many more options today than twenty years ago.
When natural teeth are missing, the adjacent and opposing teeth are also affected. If a tooth doesn't have an opposing tooth to chew on, often it will super-erupt and can create a periodontal pocket which can lead to bone loss and eventual loss of the tooth. In addition, if a tooth is not replaced, the adjacent teeth will often begin to shift and tilt into that space, creating less than ideal chewing function an esthetics. Again, when the teeth move into the space of a missing tooth, this can cause food traps and decay or contribute to eventual tooth loss.
In addition to chewing and esthetics, speech can be affected by missing teeth. When you have a denture to replace teeth, you can also gain back lip support and help with speech and make you look younger without drooping or sunken in cheek or lips.
If you need dentures stuart fl options, you should contact Dr. Crystel A. Riggs in the Stuart, Florida area for a complimentary consultation on the best options available to you today.